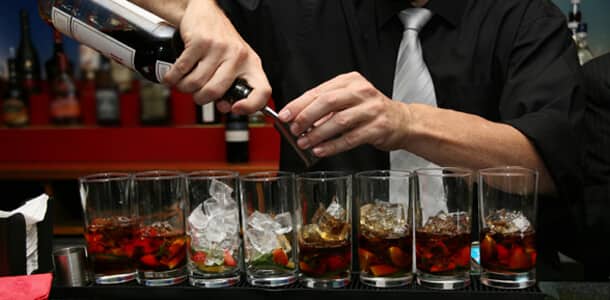 Date
Jul 17 2023
Expired!
Bar Skills with RSA and/or RSG – 17th and 18th July 2023 – East Brisbane
This is a 2 day course, running:
9.30am to 3.30pm 17th July 2023 – SITXFSA005 Use hygienic practices for food safety with Bar Skills training
9.30am to 12.30pm: 18th July 2023- SITHGAM022 Provide responsible gambling services training (RSG)
1pm to 5pm: 18th July 2023 – SITHFAB021 Provide responsible service of alcohol training (RSA)
About The Course
If you haven't worked in the industry before or have been out of hospitality for a while and wish to get working, then this is the course for you.
Conducted over 2 days this course is run in real clubs or hotels where we have arrangements to use their Bar and facilities. The first day we do the practical training and the second day is the SITHFAB021 Provide responsible reservice of alcohol training or the SITHGAM022 Provide responsible gambling services training (whichever you need, or both).
In addition to gaining experience behind the bar, the Bar Skills Course includes the unit SITXFSA005 Use hygienic practices for food safety which is accredited within the National Training Framework and is part of the Certificate II in Hospitality.
Already Have Your RSA?
If you already have your RSA, you can choose to either do the 2 day course with the RSG, or select the 1 day practical skills only option. Simply select the 1 day course option above to secure your place.
Payment plan option
Prefer to pay a deposit and pay your course over a few weeks? Click here for details and reserve your place for only a deposit of only $50. Please note: if this course is marked 'out of stock' before you make your deposit, we will be in contact with alternative course dates or locations to complete your training.
You can secure your place on the course by paying in full or doing the $50 deposit. The payment plan will then let you be able to pay off at $30/wk, bring in your account details on the first day of the course to set this up.
About The Venue
This course will be held at The Lord Stanley Hotel in East Brisbane. There is a carpark the hotel, or if travelling via public transport, it is within walking distance of several bus stops.
Accreditation details
Upon successful completion students will receive a Statement of Attainment detailing completion of the unit SITXFSA005 Use hygienic practices for food safety, in addition to any of the optional units completed as listed below:
Responsible service of alcohol (SITHFAB021)
Responsible gambling services (SITHGAM022)
You will also receive our Bar Skills 'Certificate of Completion' (non-accredited), listing the tasks performed on the programme.