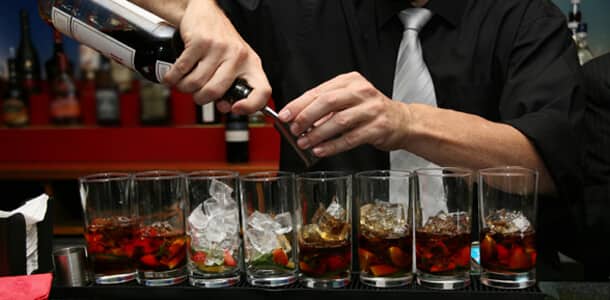 Bar Skills with RSA and/or RSG – 19th and 20th Dec 2022- Redcliffe
This is a 2 day course, running:
3pm – 9pm: 19th Dec 2022 – SITXFSA005 Use hygienic practices for food safety with the Bar Skills training
3pm to 6pm : 20th Dec 2022 – SITHGAM022 Provide responsible gambling services training (RSG)
6pm to 10pm: 20th Dec 2022 – SITHFAB002 Provide responsible service of alcohol training (RSA)
About The Course
If you haven't worked in the industry before or have been out of hospitality for a while and wish to get working, then this is the course for you.
Conducted over 2 days this course is run in real clubs or hotels where we have arrangements to use their Bar and facilities. The first day we do the practical training and the second day is the SITHFAB002 Provide responsible reservice of alcohol training or the SITHGAM022 Provide responsible gambling services training (whichever you need, or both).
In addition to gaining experience behind the bar, the Bar Skills Course includes the unit SITXFSA005 Use hygienic practices for food safety which is accredited within the National Training Framework and is part of the Certificate II in Hospitality.
About The Venue
The Komo Hotel is one of Redcliffe's favourite venues for events and dining. Adjoining the largest conference space in the area, it is well equipped with great training facilities and convenient parking.
Already Have Your RSA?
If you already have your RSA, you can choose to either do the 2 day course with the RSG, or select the 1 day practical skills only option. Simply select the 1 day course option above to secure your place.
Payment plan option
Prefer to pay a deposit and pay your course over a few weeks? Click here for details and reserve your place for only a deposit of only $50. Please note: if this course is marked 'out of stock' before you make your deposit, we will be in contact with alternative course dates or locations to complete your training.
Accreditation details
Upon successful completion students will receive a Statement of Attainment detailing completion of the unit SITXFSA005 Use hygienic practices for food safety, in addition to any of the optional units completed as listed below:
Responsible service of alcohol (SITHFAB002)
Responsible gambling services (SITHGAM022)
You will also receive our Bar Skills 'Certificate of Completion' (non-accredited), listing the tasks performed on the programme.