Gaining Hospitality Employment - For Newbies
With a desperate
skills shortage in hospitality
looming in Australia as the industry grows, becoming a diligent and knowledgeable professional in the field can make for a very rewarding and lucrative career path.
You've got, or are getting your RSA, and you're keen to get yourself out there into the wide, exciting world of the hospitality workforce.
Gaining hospitality employment can literally take you around the world; the top industry choice for Aussie working holidays.
But how do you get your first job in hospitality when other candidates might have years of practical experience under their belt? Here are our top tips for keen, budding hospo's looking to land their first bar or restaurant job.
1. Apply for Hospitality Jobs at The Perfect Time
In South-East QLD, the onset of Spring is one of the best times of year to get your resume out there and start seeking employment in hospitality. Venues will be booked with weddings and events looking to enjoy the warmer weather, and gearing up for the very busy Summer holiday, Christmas and New Year period. Many will be looking for casual staff to enhance their manpower, allowing time for sufficient training of their new recruits.
In other parts of Queensland, particularly the Northern areas, tourism, and how busy venues expect to be is very seasonal. From October onwards the North begins to heat up, and the 'wet season' is looming, meaning tourists will typically be heading south to a more temperate climate. The North still has a busy event schedule over Christmas/New Year; but the best time to seek employment for newbies, is during the 'dry season' from the Easter Holidays onwards.
2. Apply to Hospitality Staffing Agencies
Many venues – especially large operations such as Clubs, Hotels, Resorts, and Event Venues will outsource temporary event staff through recruitment or promotional agencies. This is an excellent way for new staff to get to work in a very busy and high-end environment.
You will also get a feel for the interview process within the industry, what questions you might be asked, and what interpersonal skills recruiters and their clients are typically looking for.
If you land a temporary gig, you may start with smaller jobs like clearing glasses and plates, or delivering meals, finger foods and drinks to guests. This is an excellent confidence-builder, helping you get a practical feel for the bar and floor during an event. Return appointments to popular venues through a professional agency, paired with a positive reference looks great on a new hospo's resume.
Hospitality Recruitment Agencies also place candidates in permanent or semi-permanent positions in venues, so why not have them help you find the most suitable employment – many hands make light work. Some recruitment agencies might even help you with your CV!
3. Choose the Right Type of Venue for Your Big Start
Think about what style of venue you would like to work in. If you're a budding restaurateur who would love to work in a buzzing popular restaurant, keep in mind the competitive nature of the restaurant industry often means employers will be looking for VERY skilled and experienced staff. However, if they have an extensive training program, you might be just the enthusiastic clean slate they're looking for. It helps to demonstrate in your application that you've researched their menu, wines, and style of service extensively; and outline exactly why THEIR restaurant in particular is where you want to be.
If a trendy, pumping bar or nightclub is the place for you, expect to pick up the pace VERY quickly if you manage a trial shift. But also keep in mind many busy managers of these venues are looking for people with the right attitude to keep their customers happy, and returning to the venue. If your beverage preparation isn't quite up to speed – make sure your personality, and enthusiasm shines! Culture fit and getting along with your employers, customers and colleagues can be highly regarded in this scene.
Hotels, Resorts and Casinos can be VERY competitive venues to get into off the starting line; wherever customers spend a LOT of money, they expect TOP service. If this is your dream, don't discount it. Keep your eye out for ads asking for juniors or casual staff, and keep applying! Your resume is likely going to the HR department before it sees a manager, and often there is an arduous application process. You may not even get a reply. Keep your cover letter short, sweet and relevant, making sure you address all of the selection criteria. Ensure your resume is presented professionally, and includes a passport photo of yourself. Unfortunately it's true that sometimes if you look the part, it can really help.
If you'd rather start out a little easier behind the bar, perhaps a small cafe or RSL, Club or quiet pub bar will be better suited. There's a lot of opportunity for growth and promotions in Sporting and Social Clubs. You can gain experience in many sectors, bar, floor, restaurants and bistros, events and gaming.
4. Consider Your Location
Is there a bar, restaurant or cafe near your home that you frequent? It can help if you already have a rapport with your employer and you're a familiar local face. Further to this, one BIG box ticked in an employer's selection criteria is if you live in close proximity to their venue, and if you have reliable transport. Knowing you are close by if your employer finds themselves short-staffed and they need to call someone in for work at late notice is great peace of mind. Employers like to know that their staff can get to work quickly and easily. Make sure you let them know you can be there in a heartbeat if they need you.
Choosing a local venue also helps you save on petrol and travel costs, and minimises the amount of time spent commuting to and from work – so more free time for you!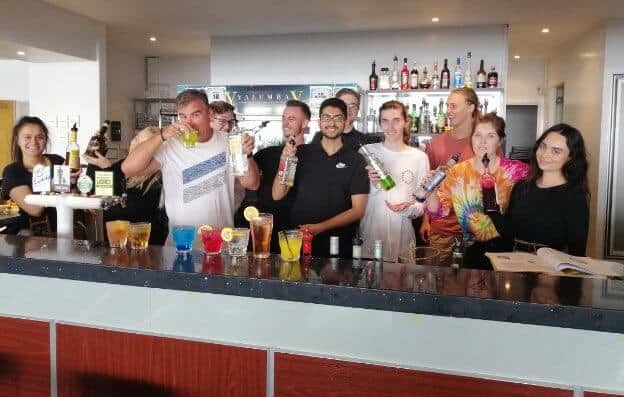 5. Undergo Bar Skills Training
One of the best things you can have on your resume when seeking first-time employment without experience, is accredited bar skills training. An RSA doesn't give you practical hands-on experience on how to pour wine and beer, or mix drinks and cocktails, nor does it help you learn the ropes of a bar and restaurant set-up, hygiene and workflow. ITS Bar Skills Training Courses offer all this and more, giving you the skills and confidence to put yourself out there, and increase your chances of getting hired!
Showing potential employers that you were diligent and enthusiastic enough to upskill and train, demonstrates that you're serious about gaining employment in the industry. Being keen, proactive and showing initiative goes a very long way in hospitality.
6. Don't Give up on Finding Hospitality Work, You'll Get a Go
It can be disappointing if you keep getting knocked back, especially if you've made it to the interview stage. If you ever feel like an interview went very well; but you were just beaten by more experienced applicants – keep in touch with that employer every now and then, even with a quick email re-attaching your resume.
Who do you know? If you have a friend of a friend in a hospitality management position, you might be able to gain some work experience to add to your resume (and if they love you they might keep you).
Look around for volunteer community groups, charities and associations who hold regular events. You can get experience under your belt, help with a good cause and look like the good Samaritan that you are on your CV.
Your personality alone might get you further, faster if you're lucky; but for the most part, hospitality is about hard work, honing your skills, and expanding on your knowledge and abilities. It's also about enjoying what you do, and helping your customers have a great time. Gratefully, while it can be a bit tricky to get into for first-timers, it's one of the fastest industries in which you can advance your career.
Everybody has to start somewhere. Almost every great celebrity chef started out washing dishes and cleaning the kitchen. Almost every professional waiter began by clearing and cleaning tables. Most bartenders began by clearing, cleaning and polishing glasses. Every cocktail mixologist and flair bartender has dropped and smashed a glass (many glasses).
So keep trying and happy job hunting, if you have any questions or would like more hot tips, hit us up in the comments! All the best.