What Liquor Licensing Signs Does My Venue Need
What Liquor Licensing signs do I need in my Licensed venue?
When we're out and about conducting the RMLV course for Liquor Licensee and Approved Managers around the state, we're often asked about the OLGR signage requirements for licensed premises.
Venue managers want to know how many signs
they should have on display and where they can get them.
There is no definitive answer for how many signs you should have; but if OLGR compliance officers pay a visit to the venue, they would probably expect to see appropriate signage behind bar areas, and/or near the venue entrance.
Signs are important for staff and patrons to remind them of their legal obligations and the fines they can incur should they break the liquor laws. It also helps to outline the unique rules that apply to your venue, and take a little bit of pressure off staff having to repeatedly make patrons aware of these rules.
There should be a reasonable representation around your venue of the fines for minors being served alcohol, and the venues right to refuse service to patrons unduly intoxicated. By clearly displaying compliance signage, you're demonstrating that you support your staff in service refusal, and it's helpful for employees to be able to reference the signs when they are enforcing licensing laws; particularly if they're dealing with difficult or unruly customers.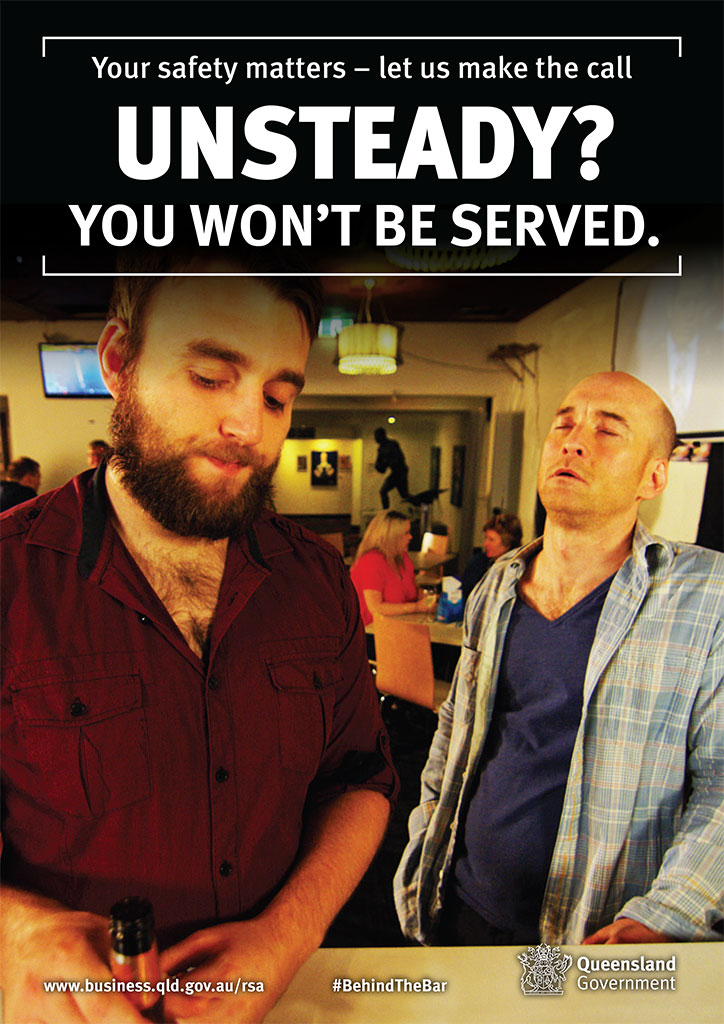 There are a number of signs available addressing refusal of service
Aggressive? You won't be served
Slurring? You won't be served
Unsteady? You won't be served
Confused? You won't be served
No liquor served or supplied after…(nominal times)
Unsteady? You won't be served
Aggressive? You won't be served
Slurring? You won't be served
Confused? You won't be served
No liquor served or supplied after…(nominal times)
How often should you update your liquor licensing signs?
When is the last time you updated your signs? You should replace your signage on the 1st July every year. Annual CPI increases affect the fine amounts noted for the various offences, you don't want to be displaying signs with incorrect figures.
What
signage topics
are there for
licensed venues?
Some signage is mandatory, others are optional.
Mandatory signs:
Under the liquor act, the following signs MUST be displayed in an obvious area of your licensed premises.
Liquor license permit details
View RAMP sign: Advising patrons of their right to view the venues risk-assessment management plan.
ID Scanning collection notice: If your venue is regulated for ID scanning you must summarise and display your privacy policy at or near to the entrance; where patrons can view it before they produce their ID.
CCTV in use sign: This sign must be displayed if there is a CCTV related condition in your licensing documents, or if your venue has approved trading hours after 1am and is located in the Brisbane City Council area.
Liquor license permit details
View RAMP sign: Advising patrons of their right to view the venues risk-assessment management plan.
ID Scanning collection notice: If your venue is regulated for ID scanning you must summarise and display your privacy policy at or near to the entrance; where patrons can view it before they produce their ID.
CCTV in use sign: This sign must be displayed if there is a CCTV related condition in your licensing documents, or if your venue has approved trading hours after 1am and is located in the Brisbane City Council area.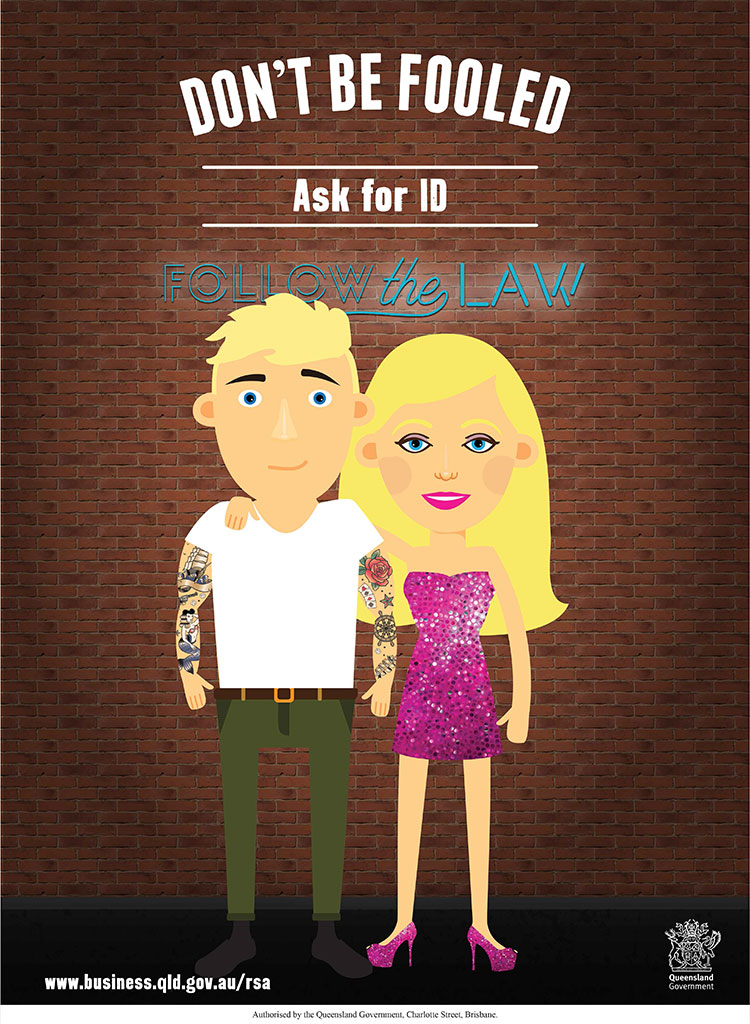 Patron safety signage
Surveillance and you may be searched with a metal detector
Drink spiking sign
Under 18 and false ID signage:
Do you know under 18 (Fines for patron, staff and management)
Stop under 18
Most expensive drink poster
Under 18 not permitted
False ID sign
Under 18 friends ID sign
Changed DOB sign
Provide mate with ID sign
Produce ID when entering a community club.
Noise signage:
Please be considerate sign
Organised crime and prohibited items signage:
Fines for prohibited items sign: Wearing or carrying clothing or other items displaying the club patch, insignia or logo of an identified organisation at this venue is illegal.
Rapid intoxication signs:
No rapid intoxication drinks after 12am
Examples of rapid intoxication drinks banned after 12am
Where can you find liquor licensing compliance signs?
All of these signs (and more) are available on the QLD government OLGR website. Simply follow the link, print off what you need, laminate or frame and put up in your venue. Remember to update your signage 1st July every year.
If you have any questions we're always happy to help. There's no such things as a silly question! We have a bunch of Frequently Asked Questions and answers that could help you here too! At ITS we're all about making responsible service and licensing compliance as simple and painless as possible for venues, staff, and patrons.